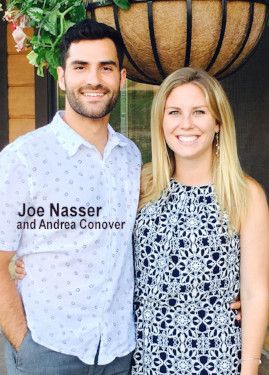 Meet Joe Nasser
CMT Board Treasurer
"I want to give back and bring enjoyment to someone else's life".
Joe works at ConocoPhillips in Bartlesville as an Analyst in the Joint Venture Operated Finance Group.   He graduated from the University of Houston in 2015 with Finance and Accounting degrees. Joe's Texas roots, and his family and community values, run strong and deep. Growing up in Abilene, his parents had four kids of their own (Joe and his 3 sisters), then adopted their little brother in 2011. Joe's parents are planning to adopt another child this year. Go, Team Nasser!   In his free time, Joe enjoys all outdoor sports: hiking, running, camping, mountain biking ... you name it. If it happens outdoors and is a sport ... he is there!  Joe has been on our Board since October 2015 and was first introduced to CMT during a COP new hire work day earlier last year. "I volunteered to work in CMT's scene shop and really enjoyed the people and the program. Now, the rest is history!"
"The biggest thing that keeps me involved is seeing how much joy the kids have during our summer production. In summer 2015 I worked backstage with the set crew for the first time and seeing the action from behind and how the kids interacted with each other was a sight to see."
CMT: What prompts you to give (donate) to CMT?:
JN: I am a relatively young board member. Now that I have graduated from college and discovered the things that I enjoy in my life I want the opportunity to give back and make that happen in someone else's life.
CMT: Joe also participates in his employer's Volunteer Grant program. ConocoPhillips donates a volunteer grant for the hours Joe volunteers (donates) to CMT. For every 20 hours volunteered, COP donates $500. Thank you, Joe and thank you ConocoPhillips!  Any member of the community can volunteer at CMT and request a volunteer grant from COP, P66, and CPChem. These corporations also offer a matching gift program, doubling the philanthropy possibilities!
CMT: Shining moment for you as a Board volunteer?
JN: Being a part of the set crew for Beauty and the Beast. The moment the curtain drops at the end of the show hearing an entire cast of kids shout in triumph and joy is something I will never forget.
CMT: How do you currently serve CMT?
JN: I was just announced as the Treasurer for CMT. I am also heading the project to get CMT fully integrated into the cloud and bring their processes into systems we have access to.
CMT: What are you looking forward to over the next six months?
JN:  I am looking forward to the building of the black box theatre at our new building, giving us the opportunity to impact more kids by offering more experiences and programs.