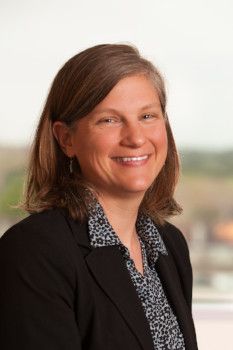 Tommi Miller, Board Member
Meet Tommi Miller
My name is Thomasin (Tommi) Miller and I am a scientist working for the Phillips 66 Company Research and Development Center in Bartlesville, OK.  I have a B.S. degree in Chemistry from Purdue University in West Lafayette, Indiana and a Ph.D. in Analytical Chemistry from the University of Texas at Austin.  When I am not working, I am either out running with friends, burying my nose in a good book, or having fun with my husband and two young sons.  I also give back to my community as a Board volunteer with Children's Musical Theater (CMT) of Bartlesville.   
You might be asking, why would a scientist have an interest in CMT? Well, in addition to my passion for science, I also have a passion for music.  Music is my heartbeat.  It is my stress-reliever.  Ever since I was little, music has been a constant presence in my life.  I spent evenings with my Dad, who is also a scientist, as he sang and played guitar.  The radio was always on in the car, and I sang in my church choir.  I have played the flute and piccolo since the 4th grade, and almost chose musical education as my college and career path.  Some of my fondest memories involved playing in the pit orchestra in high school for the annual summer musical that was produced by my local school corporation in Indiana.  Those experiences help me grow into the person I am today.  I learned how to audition and present myself, made lifelong friends, and had the opportunity to challenge myself with some of the best music ever written!!  So, now all grown up, I was pleasantly surprised to see that Bartlesville, OK had a similar program where children could experience the magic of producing and performing in a full scale on-stage musical!  When asked to join the Board, I of course had to get involved to help give kids similar opportunities to what I experienced growing up!!! 
I have participated as a CMT volunteer Board member going on 3 years now.   Within that time fame, I have watched this wonderful organization evolve from a single summer main-stage musical production program to a premiere musical theater teaching organization with year-round educational arts program for children of all ages in the Bartlesville and surrounding communities.  In addition to my volunteer time, I personally donate to CMT through the First Ladies of CMT group which has helped grow CMT programming to include two featured summer camps aimed at different grade levels, elementary and middle school respectively.  The camps provide opportunities for children to receive instruction in song and dance, learn important public speaking and audition skills, and most importantly have fun while developing friendships and learning to work together as a group toward a common goal -  the successful production of a short musical within three weeks or less! 
After attending the most recent middle school camp production of Seussical Jr., my youngest son (age 7) proclaimed, "Wow!  I didn't realize that a little kid like me could be a star!".  These camps, not available at other schools or organizations in the Bartlesville area, offer children a truly unique way to each be stars and shine!  They make new friends, work hard, learn valuable lessons, overcome fears, stand tall in the spotlight, hear the applause, and come away with songs in their hearts.  They realize they can try new things and succeed.  I am extremely proud to support our "rising stars" and be part of the Children's Musical Theater family.