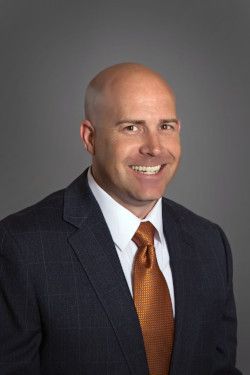 Michael Colaw, CMT Board Member
Meet Michael Colaw
   I work for Phillips 66 as the Supervisor of Vendor Master Data.  We maintain all of the essential data for all of the vendors Phillips 66 does business with.  I received my undergraduate degree from Oklahoma Wesleyan University and my Master Degree from Indiana Wesleyan. 
     My wife, Dorothy, and I have been married for 20 years and we have three great children.  Chase (a high school junior), Reagan (a high school freshman) and Julia (a sixth grader). All of my children have been involved with CMT through various programs. For fun I love to run (I've completed several half-marathons) and enjoy golfing.  
     I first became involved in CMT in 2012 when my oldest daughter (Reagan) was selected for a part in Willy Wonka. I have remained involved with CMT because I've always loved music and it has always been a part of our household.  It's something our family can participate in together.  After seeing the joy my daughter got out of performing in WW, and seeing the unbelievable quality of the production… I was hooked.
     I've been on the board since 2014 and prior to joining the board, volunteered as the main-stage backstage crew. I have also volunteered to help with Missoula / SPOTLITE at the BCC. 
     Witnessing the difference CMT makes in the lives of so many students, their amazing talent, the high quality of programs, and the outstanding volunteer enthusiasm we have in Bartlesville, I am inspired to continue serving on the board and helping in the organization.
     A shining moment for me as a board volunteer happens each summer, standing on the side of the stage during the summer productions and watching all of the amazing kids perform (and being especially proud of my two daughters).
     What Michael is looking forward to over the next six months: The continued development of our facility and the summer main-stage musical, ANNIE, July 20-23, 2017 at the BCC.